28 juin 2010
Petite pause "bloguèsque" imprévue.. ce soleil étant beaucoup trop tentant.. Mojito rafraichissant, pique-nique, séance de bronzette avec crème protectrice (indice 30 en Belgique ça c'est du record, mais néanmoins ultra nécessaire pour ne pas virer écrevisse..), balade dans une brocante de quartier, des amies, spéculations dignes du cours boursier sur mon futur lieu de vacances, des fou-rires après une semaine chargée au job.. voilà de quoi décompresser en beauté lors de ce superbe week-end..

Et puis malgré tout l'envie de parler couleurs. mmmm.. Ce soleil qui rend de bonne humeur!
Jolie découverte récente. J'étais assez étonnée en découvrant cela mais franchement enthousiaste! Personne enfin du moins je ne suis pas au courant, n'a jamais pensé à décorer des plinthes! ces choses bêtes qui courent le long de nos murs et qui ont même tendance à être associées à un style vieillot..
Voilà qui va carrément révolutionner vos murs! des plinthes personnalisées, de la couleurs sous les yeux, .. Peut-être qu'associé avec un papier peint ce serait trop mais assurément efficace pour souligner un mur blanc ou peint d'une belle couleur.

"No Limit to your creativity"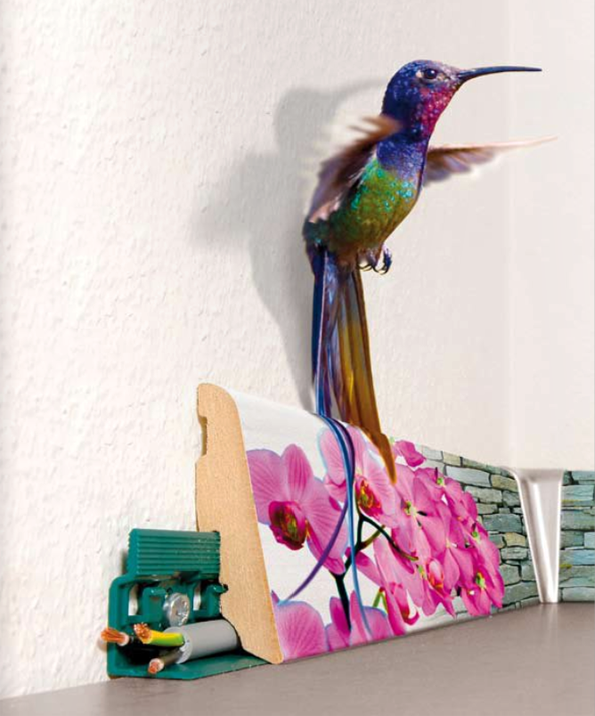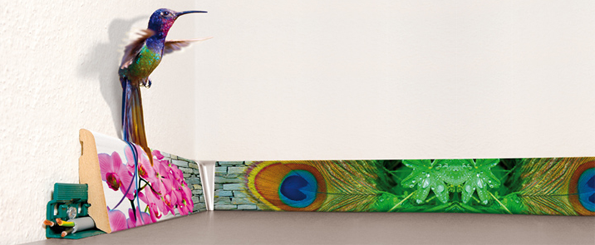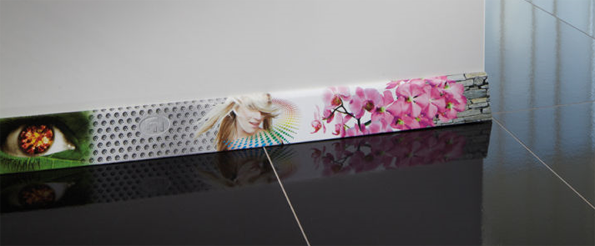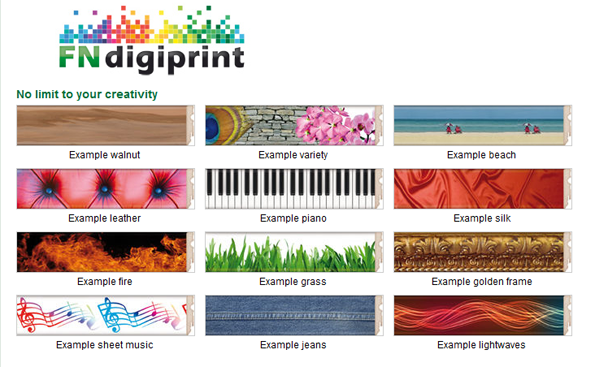 "No Limit to your creativity" voilà un slogan qui me plait! J'adore l'idée de pouvoir personnaliser et de ne pas être bloqué dans nos idées par des contraintes techniques!Au vu des exemples la quadrichromie est tout à fait possible, l'impression haute résolution de vos photos, motifs, voilà qui laisse rêveur!

"FN digiprint" - Creativity that knows no bounds.
"FN digiprint" is an exceptional example of innovative strength. It offers the unique opportunity to design profiles, floor profiles and panels for its "FN deco-shelf" multifunction shelf system using digital printing. Setting your creativity free!
Digital printing is ideal for applications that would otherwise be impossible or extremely expensive to manufacture using traditional printing methods. It is now possible to print photographs/scans, company logos, PVC floors, linoleum floors, carpets, as well as fancy patterns created in graphic programs.
Once the patterns and images have been sorted out, printing is easy to reproduce at any time even in small quantities.


Leur adresse (en Allemagne malheureusement)
Neuhofer Holz GmbH · A-4893 Zell am Moos · Haslau 56 · Tel: +43/6234/8500-0 · office@fnprofile.com
Leur site : http://www.fnprofile.com/en
Commentaires sur COLORS / selection - F.N Digiprint